Village The Hotel Club Swindon:


Address: Shaw Ridge Leisure Park, Whitehill Way, Swindon, SN5 7DW
Phone: 01793 279470
Website: http://www.village-hotels...
Army Boot Camp Open Weekend
Village Swindon's host FREE family fitness open weekend in support of Help for Heroes
A fantastic,
FREE

,
army-themed, family fitness took place this weekend in support of Help for Heroes.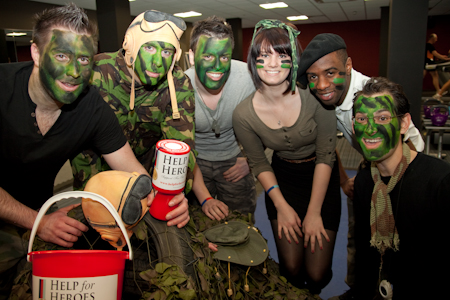 De Vere Village staff dress-up for the weekend

There were lots of activities on offer for the whole family including:
Operation Family Fun!
- Boot camp classes for adults and kids
- Assault courses
- Tug of war
- Zip wire
- Kids face painting
- Full kids fitness, fun and games timetable
- Family fun pool sessions
Operation Fitness!
- Military fitness tests and gym challenges
- Military displays
- Personal training for £5
- Zumba masterclass
- Full range of studio classes
- Introductory gym sessions
- Education seminars on fat loss, sports performance and more
- PHD nutrition tastings and advice
- FREE postural analysis and functional testing
- Fitness MOTs
To join The De Vere Village gym, or to take a look round visit their website via the link below.