Village The Hotel Club Swindon:


Address: Shaw Ridge Leisure Park, Whitehill Way, Swindon, SN5 7DW
Phone: 01793 279470
Website: http://www.village-hotels...
swindonweb.tv® bringing you all of our top stories on video
Sharon Wright - Dragon Slayer
Dragon's Den

'winner'

tells all at Swindon Connections event
Sharon Wright, the much publicised 'success' on the BBC programme "Dragons' Den", explained all to a busy meeting of Swindon Connections last night.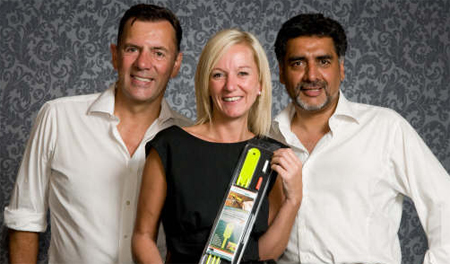 Sharon Wright with James Caan and Duncan Ballatyne
Two years on from her Den pitch when James Caan and Duncan Ballatyne chose to 'invest' in her cable threading business, Sharon has written a book on her experience entitled
"Mother of Invention - How I Won Dragon's Den, Lost My Mind, Nearly Lost My Business and Ended Up Reinventing Myself",
a heartfelt expose of the events that happened to her once she had agreed to accept the Dragon's cash.
"Horrendous, best sums it up," Sharon told over a hundred and fifty guests at the De Vere Village.
"Duncan [Ballatyne] I don't have a problem with but I'm currently suing James Caan after what happened."
Afterwards SWTV grabbed a word with Sharon - see video above.
Day
Date
Time
Swindon Connections
Ideal networking opportunities at New College + guest speaker, Lucy Whittington - 18 JANUARY...

05 August 2011