Brand-new live music and entertainment venue in Regent Circus...

Address: Regent Circus, Swindon, SN1 1PR
Website: http://www.mecaswindon.co...
Vinvolved Swindon presents VAVABOOM!
v-Swindon Presents VAVABOOM!
6th May 2011@MECA
3 HUGE HEADLINE ACTS
ROLL DEEP || MISTAJAM || EMALKAY
Va Va over and shake your Boom to wave off vinvolved in style, because after three busy and exciting years of working with young volunteers, vinvolved Swindon are going out with a bang!
And that BANG is BIG!!

They've pulled together a dubstep and grime party that won't just have your ears wobbling, but your whole body and soul shaking and taken, with a phenomenal line-up and non-stop cataclysm of
wwwomps and drops, which Swindon has never seen the likes of before.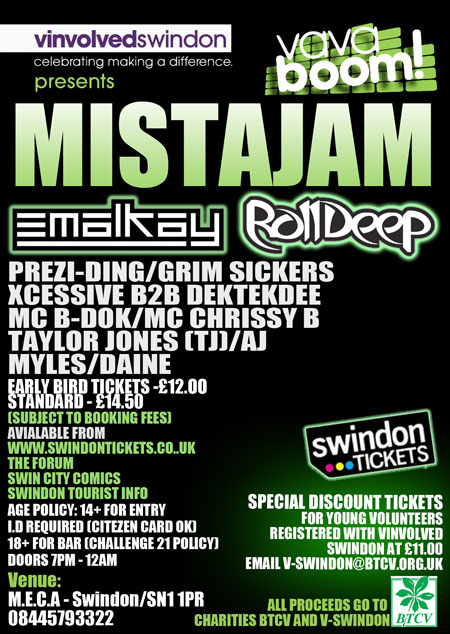 Join this massive party at the newest and most exciting venue in Swindon, the M.E.C.A, and if it's your first time there, this promises to be a truly memorable event that you'll never forget!
*****************************
TICKETS NOW ON SALE
*****************************

Special Offer Tickets - £10.00
Tickets are available from the Swindon Tickets website (link below)

A special promotion on at the moment, tickets are £10.00 for a limited time during the current promotion.

In addition, all young volunteers will get a discount ticket (£1 off).
Email v-swindon@btcv.org.uk to claim your volunteer ticket!
*** AGE POLICY ***
14+ for entry, ID will be required (Citizen Card accepted)
18+ for alcohol in sectioned off area
Vinvolved Swindon are proud to be hosting a night of music and celebration to say 'thanks a million' to all of the amazing young Swindonians (and all the others!) who have worked with them to make a difference to their community and the people in it, so make this one to remember and party...HARD!
For up to date information on this event, please visit the Facebook link below.
Day
Date
Time