Address: Marlborough Downs
Phone: 01793 490150
Website: http://www.swindon.gov.uk...
Barbury Track 'N' Trail
A 5 mile trail run for a summers evening!

Start and finish at Barbury Castle Country Park, Wroughton.
The race is a scenic, undulating, one lap route of the trails and footpaths around the ancient Iron Age Hillfort of Barbury Castle, touching on the Ridgeway National Trail.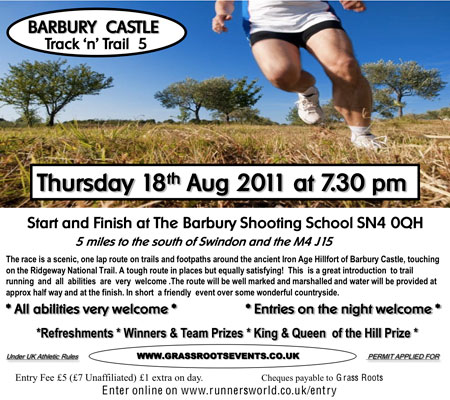 A great introduction to trail running albeit tough in places. Runners of all abilities are welcome to take part
For any further information, please contact Grass Routes Events via the website link below.
Running Events
Set yourself an achievable target - list of Swindon fun runs, 10Ks and half-marathons...

Running in Swindon
Our guide for fun runners and those more Seb Coe! - CLUBS, EVENTS, FOOTWEAR, TRAINING TIPS and more...