The UK's first dedicated computer museum...

Address: 6/7 Theatre Square, Swindon
Phone: 07834375628
Email: publicity@museumofcomputing.org.uk
Website: http://www.museumofcomput...
Gaming On The Go
Whether it's 'Brain-Training' on the train or 'Donkey Kong' on the beach, the modern handheld games console lets us play computer games wherever and whenever we want.
In a new exhibition, the Museum of Computing in Swindon looks at the 35 year history of this device.
It features some of the most (and least) successful portable games consoles, the machines that laid the foundations for mobile gaming today.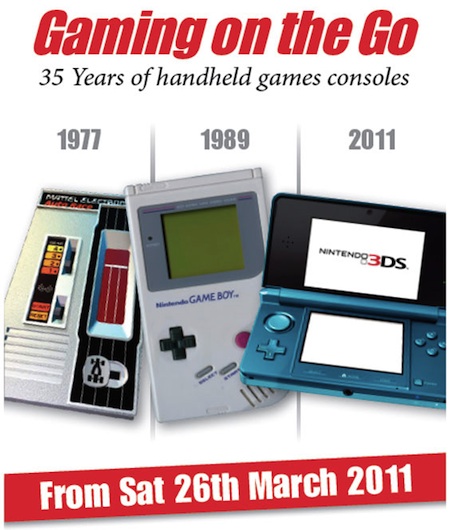 In 1976, toy company Mattel launched 'Auto Race', a portable electronic game with a 21 LED display, a reprogrammed calculator chip as its central processor and a program that fitted into half a kilobyte of memory. Despite its simplicity, it was a great success. Mattel followed it with many others including such classics as 'Football' and 'Sub-Chase'.
Fast forward to the present day and the latest console from Nintendo the 3DS, has two high resolution colour screens, one touch sensitive the other 3D, stereo sound, motion sensors and augmented reality software.
"It's not often you get to see such an amazing collection all in one place" commented museum curator Simon Webb, "this is a fascinating look at the machines, the games and the technology, it's certainly come a long way."
Gaming on the Go has over 50 exhibits with many available for visitors to play.
The exhibition is open until late summer 2011.
£5.00 - Family ticket
£2.00 - Adults
£1.50 - Students and Concessions
£1.00 - Children age 6-15 yrs cost £1
FREE - Under 5's
All children under 14 must be accompanied by an adult.
Please visit the museum's website for any further information on this event.
Day
Date
Time
Bedroom Programming Challenge
Spend a night at the museum...step back into the 80's and create your own hit computer game. No programming experience needed! 14 MAY...

Gobble, Gobble!
Big Screen Pac-Man event gets high score in Wharf Green...

22 May 2010

Home sweet home?
It's good news and bad news for the Museum of Computing...

28 May 2008