Meeting place in Swindon town centre, and home of the big screen...

Address: Canal Walk, Swindon, SN1 1LD
Phone: 01793 485 523
Website: http://www.swindontowncen...
Arsenal Football Roadshow
THE ARSENAL ROAD SHOW IS COMING TO SWINDON!
Arsenal's youth membership scheme, the Junior Gunners, and Arsenal Soccer Schools are hitting the road this pre-season with their 'Gunners on the Road' interactive experience centre!
Free of charge and open to all, the 'Gunners on the Road' tour will set up shop in Wharf Green on
Friday 29th July
giving youngsters the chance of a behind the scenes peak at what life is like for Arsenal's stars at their training complex and Emirates Stadium.
The pop up exhibition includes three rooms – a replica London CoIney Training Ground, a 'green screen' room where pictures can be taken against Arsenal backdrops and an Arsenal home team dressing room.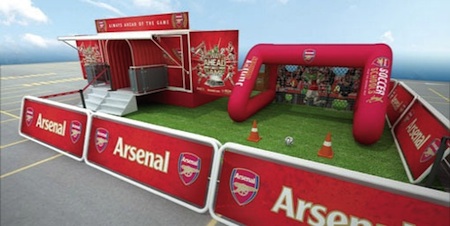 Starting at the Arsenal Training Centre, the virtual tour will begin with preparations for a big match, with participants introduced to Arsenal's coaching staff via a video message. They will also have the chance to test their reaction speeds against top Arsenal players on the Batak Wall, a hi-tech gym machine used by the team to improve reflexes.
Next, after grabbing some pictures against virtual Arsenal backgrounds, the youngsters will head for the players' changing rooms at the virtual Emirates Stadium. Laid out as it would be for a typical Premier League game, they will get prepared and start to warm up.
When ready to go, the youngsters will sample the adrenaline rush of heading down the players' tunnel, with the sound of a cheering crowd ringing in their ears, to run out onto an astro-turf football pitch, where they'll be faced with a penalty shoot out to bring the tour to an end.
On the day there will be the chance to win some great prizes, including two tickets to an Arsenal home match during the 2011/2012 season.
For more information or to register your attendance and claim free gifts please click on the link below.
Day
Date
Time