Swindon's world famous leisure centre...

Address: North Star Avenue, Swindon, SN2 1EP
Phone: 01793 445401
Website: http://www.oasisleisure.c...
Cycle Speedway Weekend
Celebrate the launch of Swindon Cycle Speedway Club!
An exhilarating 2-day event for adults and kids; test your skills with professional coaches or watch future champions battle it out on the track.
With FREE coaching on Sunday for beginners to intermediate riders of any age.
Specialist bikes and helmets will be provided but riders must wear long sleeves and long leggings or trousers and bring gloves if possible.
There will be a special raffle draw where you could win a mountain bike - all proceeds will go towards purchasing new jerseys for the Swindon team.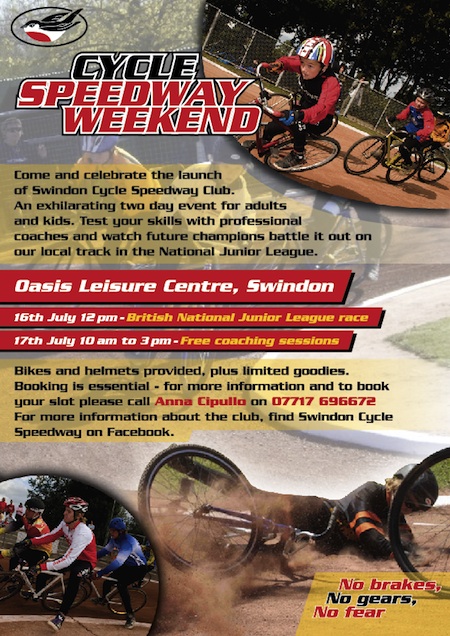 Cycle speedway is an exciting form of bicycle racing on short oval dirt tracks, usually outdoors, occasionally indoors, typically 70-90 metres long.
Like motorcycle speedway, riders use machines without brakes or multiple gears and over-taking can be quite aggressive but, unlike motor speedway, the object is not to slide bikes round the turns!
Booking is essential. Call Anna Cipullo on 07717 696672 to book a place or for any further information on this event.
Swindon has it's very own Speedway circuit behind the Oasis that is free to use at any time. Swindon Cycle Speedway Club ("the Robins") meet every Wednesday at 6pm to train.
Check out Swindon Cycle Speedway Club on Facebook - link below.
Day
Date
Time
Cycling in Swindon
Bikes at the ready! This guide tells you everything you need to know about cycling around Swindon...