Swindon's town centre park opened by Princess Elizabeth in 1950...

Address: 165 Drove Road, Swindon, SN1 3AG
Website: http://www.queens-park.co...
Shades N Skates
Fundraising success for Swindon Roller Derby's party in Queen's Park
There was plenty to see and do in Queen's Park today at the first Swindon Roller Derby fundraiser.
An event that featured a very popular craft & vintage fair, live music, children's entertainment and BBQ featuring a range of local produce.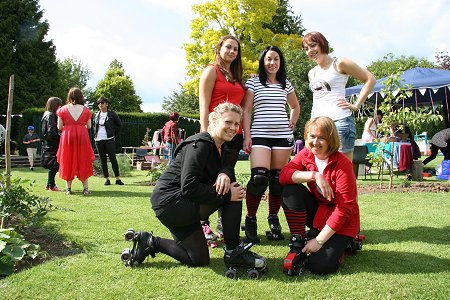 members of Swindon's Roller Derby in Queen's Park
The roller girls from the Swindon Rail Road Rebels were on hand to answer questions about this new exciting sport - as well serve lunch as roller waitresses!
Swindon Roller Derby is Swindon and Wiltshire's first Roller Derby League and is a completely non-profit organisation.
For any further information visit Swindon Roller Derby's Facebook page via the link below.
Day
Date
Time