A refreshing port of call at Sparcells, West Swindon...

Address: Midwinter Close, Sparcells, Swindon, SN5 5AN
Phone: (01793) 887635
Email: 8041@greeneking.co.uk
Website: http://www2.hungryhorse.c...
Hellcats Rock and Roll Charity Night
The Hellcats Rock and Roll charity night for Wiltshire Air Ambulance...
Saturday 10 September, 8.15pm - 11.30pm
FREE ENTRY
A night of live music with The Hellcats rock and roll band with special guests The Graham Mack band and saxophonist Steve Hobbs.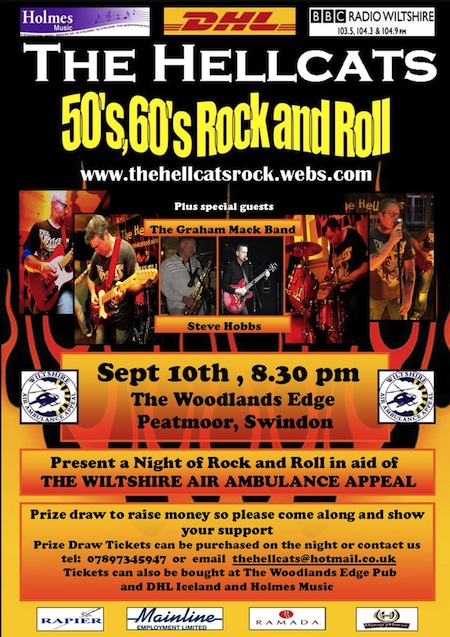 There will also be a special prize draw with tickets priced at £1.00 or £4.00 for 5 -
Cash prizes £25 x 2 and £50
Musical instruments
2 match-day tickets for a Swindon Town game, donated by the club
Blue-ray dvd player
1 night in a 4 star Ramada Hotel in Hungerford
The total money raised on the night will be matched by DHL!
Please contact Paul on 07897345947/01793323431, email at thehellcats@hotmail.co.uk or check the band's website (link below) for further details and updates.
Day
Date
Time