Swindon and Cricklade Railway:


Wiltshire's only standard-gauge heritage railway offering train rides on weekends, public and school holidays...

Address: Tadpole Lane, Blunsdon, Swindon, SN25 2DA
Phone: 01793 771615
Website: http://www.swindon-crickl...
Swindon Wartime Weekend
Step back in time to the Second World War at the Swindon & Cricklade Railway - 13 & 14 SEPTEMBER 204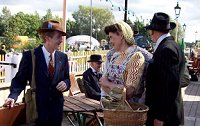 An event for all the family featuring a vast array of military vehicles, World War II trade stands, many re-enactors, (an army!), walking history, live battles and wartime food.
Plus, of course, steam train rides on the Swindon & Cricklade Railway.
See our galleries for pictures from previous years.
Day
Date
Time
The Christmas Truce
You've probably seen the advert - but Captain Mervyn Richardson from Purton was really there...

15 November 2014

Bravery Recognised
Proud evening as Swindon soldiers are awarded Operational Service Medals for Afganistan Tour - WATCH VIDEO

12 March 2014

Field of Remembrance
Lydiard Park hosts the Royal British Legion's tribute to our brave Serviceman & women - 08-17 NOV

Radnor Street Remembrance
Swindon honours its war graves at much-neglected cemetry - GALLERY + PICS FROM OTHER REMEMBRANCE DAY CEREMONIES

11 November 2012

Strictly Poppies
Come Dancing stars perform at the opening of Remembrance Field at Lydiard Park - GALLERY

09 November 2012

Swindon Bombing
70 years ago - 20 OCT 1940 - the day the Luftwaffe tragically started targeting Swindon...

A Bridge Too Far
75 YEARS ON: Swindon's connection to Operation Market Garden, the biggest airborne invasion ever mounted - September 1944...

Swindon on D-Day
D-Day: Swindon wakes up to the sound of history in the making...

The Yanks are Coming!...
Beer, Bicycles & Blackouts - Memories of the staff from the US Army's 203rd General Hospital reveal life in Swindon in the run-up to D-Day...

What a find!
Swindon artist celebrated on The Antiques Roadshow...

24 March 2009

Chiseldon Camp
50 years on since the last soldiers left, we look back at the Swindon army base which helped win two world wars - and welcomed the first American GIs to Britain...

Life's Real Heroes
100 YEAR ANNIVERSARY: We pay tribute to Swindon's heroes of the Somme + EVENTS

Swindon and World War One
Lest We Forget 101 Years On: our 4-part chronicle of the role Swindon people played in the Great War #therebutnotthere

VE Day in Swindon
The greatest e-VE-r party. How Swindon celebrated the end of WW2 in Europe - 74 YEARS AGO...