Date added: 15 March 2007
Launch of the Swindon Festival of Literature 2007
Swindon will be the host, as ever, to some of the countries most popular and original writers and speakers this coming May.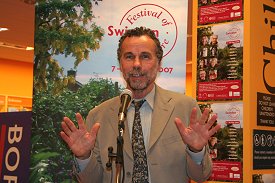 Hey! It's booktime:


Organiser Matt Holland launches
The Swindon Festival of Literature 2007
At the programme launch of the The Swindon Festival of Literature yesterday [14 March 2007] at Borders book store, organiser Matt Holland announced that the 14th festival will be "enjoyable, interesting, serious, unpredictable, funny, and very memorable."
Starting on
7 May 2007
, invited guests this year include former Prime Minister
Sir John Major
; BBC Correspondent,
George Alagiah
; barrister,
Michael Mansfield
; as well as Apprentice winner,
Michelle Dewberry
.

With over 50 speakers over the 13 days of the Festival, there will be three or more events each day, at midday, teatime, and in the evening.
These include poetry sessions that are numerous and various; storytelling indoors and out; first-time literary film slots; and even, two family-orientated days.

The festival wouldn't also be the festival without its opening day bringing in the dawn on May 7th.

Open to everyone, the early morning event takes place on the Lawn, Old Town at 5.30am and is a mixture of fun and frolics with various acts entertaining those witnessing the first May sun rise over Swindon.

Festival of Literature - more information