Simon Webbe
Singer Simon Webbe is coming to Swindon next month - and he's got a message for all you Swindon laydeez!

"I'm single - and I'm all yours!"

The ex-Blue star, now following a successful solo career, more than happy to announce - and show! - his fancy-free status in an upbeat interview he gave us this morning at the GWR FM studios in Swindon.
up close and personal with singing star Simon Webbe
He was here, of course, to promote his up-and-coming gig at the Oasis on the 22 May, and to explain to us why he thinks it's a 'not-to-be-missed' event.

"I'm really looking forward to it," Simon told us, "I've appeared in Swindon a couple of times before [in 2004 at the Wiltshire festival with Blue, and last year at the Oasis as a solo artist] and the atmoshere here is always brilliant!

"Expect to hear all the old favourites including a Blue medley and a lot of new material from my latest album 'Grace'."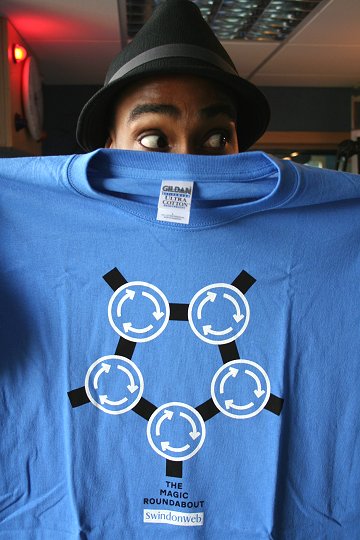 Simon Webbe poses with our free gift -
a Magic Roundabout t-shirt
Manchester born, Simon also announced that he will be performing a cover of Oasis's 'Wonderwall' in honour of Noel and Liam naming their band after our famous domed leisure centre.

"I've always been an Oasis fan, so it's the perfect opportunity to sing one of their best ever songs," commented Webbe.

Other revelations in the interview include his love for Man Utd - not City, even though he was born in Moss Side - and agreeing to make SwindonWeb his favourite website.

So, you heard it here first - we're changing our name to SwindonWebbe.com!
Ooh La!
Kooks come to Swindon...

29 January 2008