Date added: 20 April 2007
McFly in Swindon
Dougie burped into the mic. Danny licked Dougie's face. And Tom has got uber cute dimples.

Just three recollections from front-row fans at McFly's gig at the Oasis last night.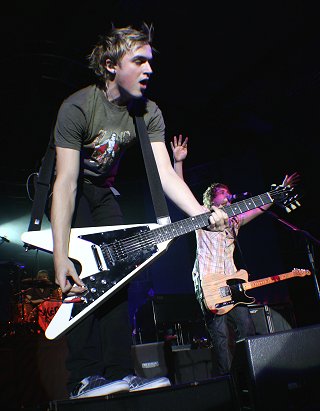 Rockin' the Oasis:
McFly
A ninety-minute set full of frantic guitar riffs, high-energy drumming and plenty of cheeky showmanship from four boys eager to entertain.

The music?

Well, that seemed almost inconsequential to the people I witnessed screaming non-stop at Tom Fletcher, Danny Jones, Dougie Poynter and Harry Judd.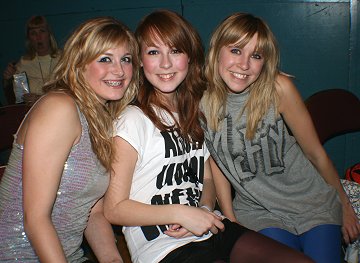 Lapping it up:


McFly fans waiting eagerly for the gig

Lads clearly used to hoards of wipped-up teenage girls almost drowning out their music with hysterical crys of "oh my god! It's McFly" and "I love you!".

That and avoiding pants being thrown on stage by those - including mums - who could clearly multi-task in all the frenzied excitement.
In between, the band managed to blast out a highly quality range of work, featuring an eclectic mix of old favourites such as 'Room on the Third Floor' and new songs, including 'Stargirl'.

Their forthcoming tune – 'Baby's Coming Back' - a cover of a Jellyfish song, notable for Danny's expert vocals and Dougie's prowess on his pink glittery guitar.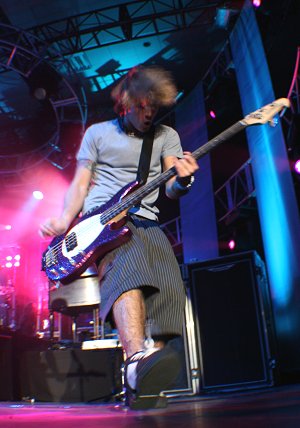 Electric performance:


Dougie giving it his all
An acoustic version of 'All about You' with just Tom (on piano) and Danny (on guitar) even managed to hush the 3,000 strong crowd for all of three minutes.

A rare quiet moment the boys took advantage of to ask the audience what they should play next: Ghostbusters, Fight for the Right or Don't Stop Me Now (Queen cover).

A defeaning chorus of approval for 'Don't Stop Me Now' the cue for normal service to be resumed.

A wall of sound that only ended when the McFly finished the night with the track that made them famous - a rendition of their first hit, Five Colours In Her Hair.

And even I was screaming by then. Danny's so cute, you know!

McFly in Swindon - 20/04/2007
Ooh La!
Kooks come to Swindon...

29 January 2008