Date added: 22 April 2007
TWIGS 10th Anniversary Spring Open Day
With the sun beaming down, it was the perfect day for TWIGS (Theraputic Work in Gardening in Swindon) to celebrate their 10th anniversary today.

Over two hundred people visiting the centre in Cheney Manor, who help mental health patients with horticultural therapy and craftwork, to explore the themed gardens on show, while enjoying live jazz and refreshments.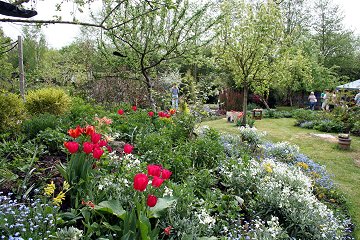 Highlight of the day for many was the chance to discover a new Haven wildflower area, created to attract all different types of butterflies. A new solar/wind powered irrigation system at TWIGS organic allotments was also demonstrated.

In a special workshop, the Swindon Beekeepers also revealed the secret life of bees and took the opportunity to sell their locally produced honey.

"It's been a truly beautiful day," said Penny Errill of TWIGS. "It's fantastic to see so many people here enjoying the gardens at their very best."

TWIGS - more information

TWIGS 10th Anniversary Spring Open Day - 22/04/2007