Date added: 07 April 2007
Highworth 5 Mile Run 2007
While many people were still enjoying a Sunday morning lie-in or planning a relaxing day in the sun, a record entry of people took part in the Highworth 5 mile run today.

An event now in its 22nd year, and for the first time ever attracting nearly six hundred runners.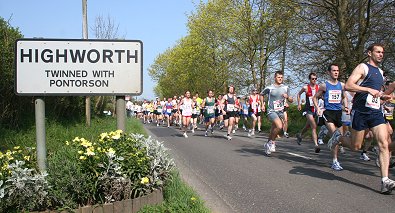 Run in the sun:
competitors sprint off at the start of the
All negotiating an undulating, picturesque course in and around Highworth, which started and finished at Warneford School.

The first man home, Shrivenham-based soldier Tim Crossland, who beat a strong local field to win in a time just over 25 minutes.

Bourton Road Runners Mike Smith and Dennis Walmsley came in second and third.

"It was tough out there," Crossland, who also won the Swindon half-marathon in 2006, said, "the heat really made a difference at the end."
"I never normally take a drink on a 5 mile run but I had to today."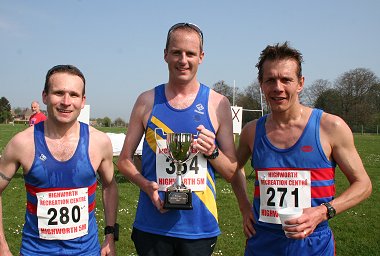 The top three:


winner Tim Crossland (centre) with
second-placed Mike Smith (l) and Dennis Walmsley, third
One competitor, Charles Brookes-Robinson eveb braved the sweltering conditions to run the route twice to raise money for the Martin Miles appeal, a charity set up to help a Highworth policeman seriously injured in a recent motorcycle crash.

Highworth 5 Mile Race 2007 - 15/04/2007