Date added: 15 May 2007
Michelle Dewberry - Swindon Festival of Literature 2007
Anything is possible
Apprentice Winner Michelle Dewberry gave a candid account of her life story at the Swindon Festival of Literature last night.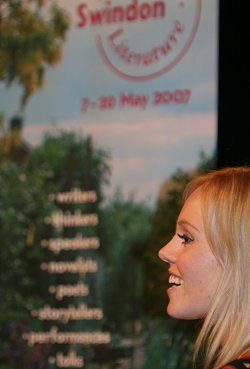 Hoping to inspire others:


Michelle Dewberry
The 27-year-old - who beat 15,000 other entrants to win the second series of the BBC business reality programme - explained the reasons for writing her recently published autobiography - and how her troubled childhood experiences turned her from secondary school dropout to business leader and Alan Sugar's 'chosen one' in the space of six years.



The tragic death of her elder sister, Fiona, when Michelle was just 17-years-old, being the defining moment when Ms. Dewberry finally - in her own words - 'woke up to the reality of where my life was going'.

"It was a mess and I could see myself heading the same way as Fiona," she said in conversation with Festival Director Matt Holland at the Swindon Arts Centre.



"My father was beating me up. My boyfriend was in prison and I was unemployed."

"When I heard the news I resolved to sort myself out and take responsibility for my actions. It was like a light came on."

"I decided that it was up to me to take care of my mother and other sister and three brothers and grow up a bit."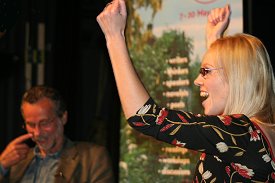 Animated:


Michelle Dewberry makes her point in
conversation with Matt Holland

To that end, Ms. Dewberry, who left school with 2 GCSEs, took on up to 3 jobs at a time to enable her buy her own house within a year - and eventually set up her own telecoms consultancy business (including a six figure salary) within five.

"Then a friend recommended I apply for the Apprentice," Michelle explained to the audience.

"I didn't even know who Alan Sugar was.

"They told me I could end up working for a famous entrepreneur - and I thought 'Great! I'll be working for Richard Branson!'," she happily admitted.

Michelle eventually beating fifteen other contestants in a gruelling two month TV interview to land the top job with Sir Alan - only to leave after a year to pursue her own interests again.

"It didn't quite work out as we planned," she added, "but it's made me realise what can be achieved when you set your mind to something."
"And that's why I wrote the book."

"I want people, especially young people, to realise that if I can do it - a simple girl from Hull with no real qualifications and no confidence - then anyone can."

Her book 'Anything is Possible' is in bookshops now.

Swindon Festival of Literature - more information