Date added: 16 May 2007
John Major - Swindon Festival of Literature 2007
Former Prime Minister Sir John Major shared his knowledge, wit and passion for cricket at the Swindon Festival of Literature last night.

In front of a packed audience at the Arts Centre, Mr Major spoke for over an hour about his book 'More Than a Game' which chronicles the history of cricket from its early origins to the death of W. G. Grace.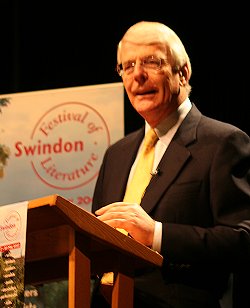 Delivering his speech:


Sir John Major talking at the
Swindon Festival of Literature

"Writing about cricket is a world away from party politics," said Mr Major, as he stepped on stage, "the only spin is wholesome not mischievous.

"And that is my last word on politics!"

The retired politition preferring instead to describe his love affair with cricket, dating from his very first memories as a child growing up near the Oval Cricket Ground.

"The atmosphere and the people had a profound effect on me," Sir John later described, "it's why cricket has always played such a large part in my life."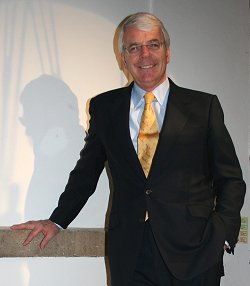 Looking relaxed:


Sir John just before taking

His talk concluding with a question and answer session, before the former Conservative leader signed copies of his book in the auditorium.
"I thought he was fascinating. Very different from what I expected," commented Charlotte Duffin, who travelled from Cheltenham to hear Sir John talk.

"You gain an impression of someone when you see them in the media, but I was very pleasantly surprised."

Swindon Festival of Literature - more information