Date added: 09 May 2007
George Alagiah - Swindon Festival of Literature 2007
BBC Newscaster George Alagiah was in Swindon tonight to talk about his new book 'A Home from Home'.

An autobiography detailing Alagiah's journey from Sri Lanka via Ghana to Britain; and his transition from being a young migrant to successful journalist.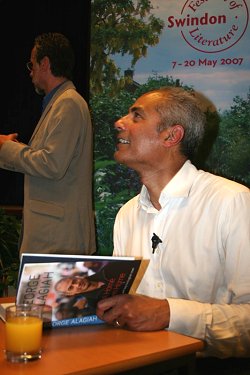 Explaining his life story:


George Alagiah at The Swindon
Festival of Literature 2007

The event - part of the Swindon Festival of Literature 2007 - was attended by over two hundred people.

The enthralled audience at the University of Bath in Swindon enjoyed the Sri Lankan's honest account about his African upbringing and how it came to an abrupt halt at the age of 11 when he was sent to a boarding school in Portsmouth.

"Moving to a new Country at such an early age really changed me," said Alagiah, "I really wanted to fit in and be successful."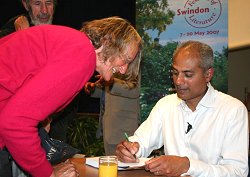 signing copies of his book

A motivation that still lives with Alagiah today every time he presents the BBC Six O'clock News.

"Even now I wonder 'I don't know if I can carry this off'," he told those present.

After his talk, Alagiah signed copies of his book and, as a patron of the Fairtrade Foundation, presented an award to Lynette Thomas (a SwindonWeb photographer, no less), who won a competition to promote Fairtrade in Swindon.

Her picture of Stanton Park being included in a new postcard celebrating Swindon's new status as a 'Fairtrade Town' alongside ones taken of Queens Park and St Mark's Church.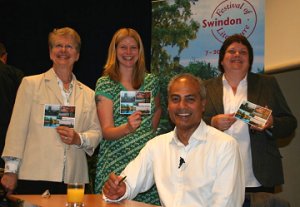 Picture postcard:


Alagiah with Fairtrade competition winners
Lynette Thomas (second left),
Maureen Iles (l)
and Mandy Ball

"It's wonderful for Swindon to be recognised by Fairtrade, and it's on honour for George to be here to celebrate the occation," said Lynn Forrester Sustainable Development Manager for Fairtrade.

Swindon Festival of Literature - more information