Date added: 28 June 2007
Natasha Bedingfield
Sounding as good as she looked, Natasha Bedingfield got up close and personal in Swindon last night - and we were there to capture it.

The platinum-selling singing star captivating an audience at the White Hart in Stratton, as the latest big-name act to guest for GWRfm, and their unique series of 'Live at the Local' gigs.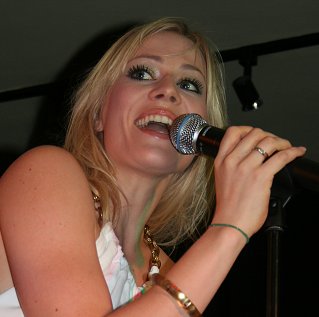 Centre stage:


Natasha Bedingfield in Swindon

Just over one hundred specially invited guests of radio listeners and competition winners lucky enough to hear Bedingfield perform an hour of her biggest hits and latest songs in the most intimate of surroundings.

Her impressive range of material and delivery - from the uptempo pop of her number one 'These Words' to the swinging beat of 'How Do You Do?' - lapped up by all those packed into the main bar.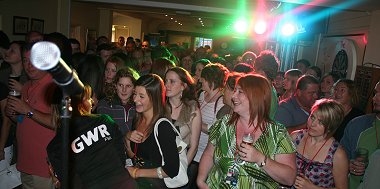 Rammed:


the main bar at the White Hart

An event made even more special for those attending with a mid-gig question-and-answer session, where Natasha talked about her career to day, life in Los Angeles and 'finding Mr Right'.

The admission that Ms. Bedingfied now has new boyfriend being the only downpoint in the evening as far as the male contingent were concerned.

The whole performance and atmosphere summed up by one front-row fan in just two words - "absolutely brilliant!"

Natasha is appearing at the Princess Diana Tribute Concert this Sunday, 01 July 2007. Her new single 'Soulmate' is released on Tuesday.

White Hart, Stratton
- website

Natasha Bedingfield - 28/06/2007