Fratellis in Swindon
Tonight, the Fratellis' bandwagon rolled into Swindon having recently entertained crowds at the Isle of Wight Festival.

And with a huge spot at this year's Glastonbury (third headliners on the Friday only below Kasabian and Arctic Monkeys), it's an understatement to say they are not some of the world's most promising new talent on the music scene.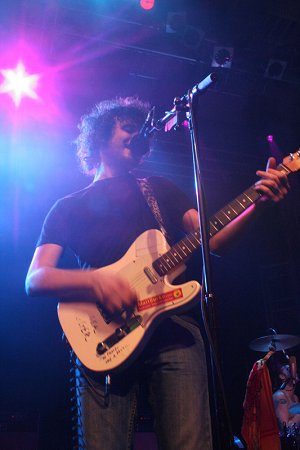 Leading man:
Vocalist and lead guitarist Jon Fratelli
Before their eagerly anticipated appearance, support band Lyons and Tigers warmed up the crowd with an un-orthordox style to say the least. With songs like "I'm a Monkey (I Eat Bananas for Dinner)" and the graphic "Lords Prayer", it made for a pleasing 20 minutes, however I did feel the joke was slowly losing its grip on the crowd towards the end of the set. Despite this, the audience had a good chuckle throughout, and the band ended with a classic rendition of the "Cheers" theme tune.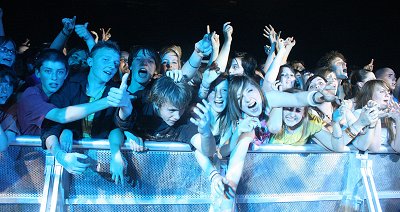 In a frenzy!:


Fratellis fans going wild
With the time approaching 9:00 pm, the fans' energy could be sensed instantly by walking into the room, and as the band burst onto the stage wielding Scottish-style "Fratellis" flags, you knew they meant business. They opened with the outstanding "Baby Fratelli", and it set the crowd off on an hour-and-a-half sing-along.

Their set was just incredible and the sound excellent; the audience's energy clearly filtering through to the band, who despite fairly minimal crowd interaction, spoke in a truly humbled manner whenever addressing them.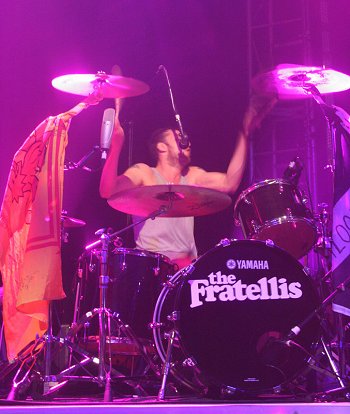 Electric atmosphere:
Mince Fratelli on the drums
Personally, I couldn't pick up on anything that made the crowd uninterested or subdued, as it was manic for the duration. Standout songs included "Flathead", "Whistle for the Choir", "Cuntry Boys and City Girls" "Ole Black 'n Blue Eyes" and the anthem "Chelsea Dagger".
However, for me it was "Henrietta" that just absorbed me, and made me want to take my top off and crowd surf my way to the front. It was absolutely smashing!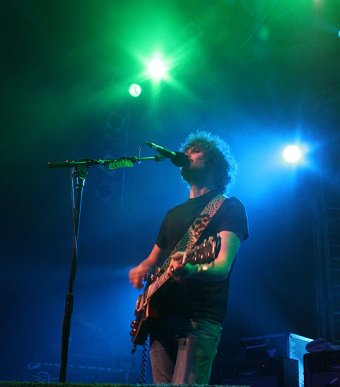 Whistling For The Choir:


Jon Fratelli doing his thing
There is no doubt in my mind, that in comparison to most of the acts I have seen at the Oasis, this stands out as the most memorable. And with front man Jon proclaming before their finale "Chelsea Dagger" that they wouldn't be leaving the gig in a hurry, it made me aware that the band themselves were absolutely thrilled with the night, as was I.
If Glastonbury get half as good a performance as Swindon did tonight, they are in for a real treat!
Story - Robbie Thomas
Photos - Craig Scott

Fratellis live at the Oasis - 21/06/2007
The Kooks
Brighton boys rock the Oasis - SEE GALLERY & VIDEO!...

Ooh La!
Kooks come to Swindon...

29 January 2008