Date added: 14 July 2007
Air Tattoo 2007
Planes and aircraft from all over the world have been thrilling crowds at the Air Tattoo this weekend.

An estimated crowd of over 150,000 people flocking to RAF Fairford to enjoy a ground display and aerial maneuvers from some of the best military aviation - and pilots - ever to be assembled in one place.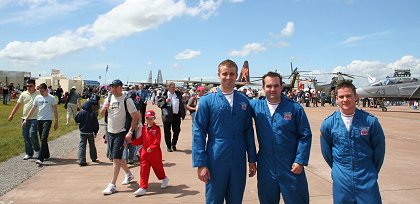 On the ground - and in the air:


Pilots from the Red Arrows Display Team take a tour of the Air Tattoo
(above) before performing for the crowds (below)
This year's aircraft extravaganza focusing on the 60th anniversary of the US Air Force, who flew in nearly 40 of their fleet to celebrate the occasion.
The stars of the show being a spectacular aerobatic display from the United States Air Demonstration Squadron - the Thunderbirds - a F-117 Nighthawk 'Stealth' Bomber, plus a unique flyby featuring the Red Arrows, three Spitfires and a Hurricane in close formation.

Air Tattoo 2007 - 14/07/2007
Hello, Mr President!
Air Force One soars over Swindon as Obama flies in to RAF Fairford - SEE PICS

04 September 2014

RIAT 2011
Barrel roles, pyrotechnic explosions and of course, the Red Arrows - SEE OUR GALLERY...

17 July 2011

Lovely Jubbly!!
David Jason AKA Del Boy returns to officially open the 2011 Fairford Air Tattoo...

08 June 2011

Fairford Airshow 2010
Battle of Britain commemorated as Air Tattoo pulls out all the stops - SEE GALLERY...

18 July 2010

Air Tattoo launch
RAF's finest fly in to launch the world's biggest airshow 2008...

03 June 2008

Skies Over Swindon
09 APRIL 1969 - 50 years ago Concorde flew in to Swindon - and in them days you were allowed on the runway! WATCH VIDEO

David Jason
David Jason AKA 'Del Boy' opens the 2007 Air Tattoo...