Date added: 28 July 2007
Mela 2007
The sun and the sights brought over 10,000 people flocking to the fifth Swindon Mela today.

Held at its usual home of Town Gardens in Old Town, the event is now the biggest asian cultural celebration in the south west, and once again featured an exciting mix of music, dance, fashion and food.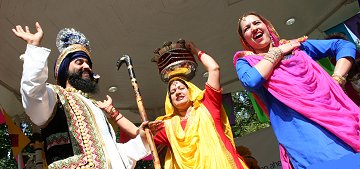 Outdoor spectacle:


the Swindon Mela 2007

Entertainment on three stages ranged from some of the UK's leading Punjabi dance troupes to renowned Bhangra beat artists, as well as acts as diverse as Sikh martial arts and Bollywood aerobics.

The party atmosphere continuing well into the evening with a special appearance by Bhangra legend Silinder Pardesi and his seven piece band at the Old Town Bowl.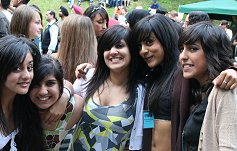 MELA MAGIC
Swindon Mela 2007
"I couldn't have asked for a better day," said Mela lead organiser Rizvana Sheikh, "thanks to everyone who has come today and the people, especially the volunteers, who have made it happen.
"The Swindon Mela just keeps on getting better and better - and bigger. I'm just wondering how we can beat this next year!"

Swindon Mela 2011
Bhangra, Bhajis and Bollywood in Town Gardens - GALLERY - WIN A MEAL FOR 4 AT BIPLOB!...

30 July 2011

Toppadom!
GALLERY + VIDEO from the marvellous Swindon Mela 2010 in Town Gardens...

Second to Naan
Thousands flock to enjoy the Swindon Mela 2009 - gallery + TV...