Date added: 11 October 2007
The Big Run-Up
Half-Marathon runners prepare for Sunday
Runners across the town have spent months preparing for the Swindon Half-Marathon and with race day looming Highworth Running Club have stepped up the pace, with their final training session last night.

One runner in particular has a lot to live up to. Susan Marr, a passionate long-distance runner set the record last year when she came in first for the women, in an impressive 1 hour 24 minutes.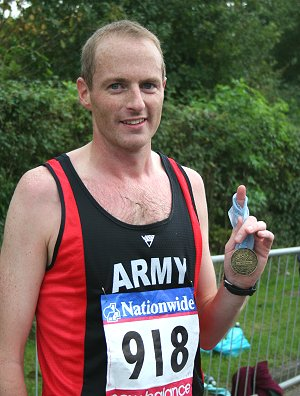 Shrivenham based soldier Tim Crossland wins the

Susan remains modest about her ability, and admits that there are other women runners who could take the lead this year.

'Last year I had a woman who was behind me for the whole race, like a devil on my shoulder, so you never know what will happen.'
Fun run for all the family:
participants in the 2006 Half-Marathon
Kevin Aries, despite being injured for six months, aims to complete the course in 1 hour 50 - knocking two minutes from last year's result.
He said: 'I've done lots of races, including The Great North Run, but Swindon is my favourite. It's a great run through the country lanes, taking you off the beaten track.'

It seems the countryside route through the Wiltshire Downs makes the race both interesting and challenging for everyone taking part. But Gary Sheppard, one of the club's newer members, says that the race is more fun than challenging.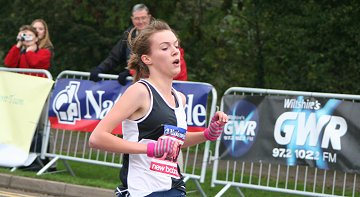 Last year's runners in action
'It's great running with the club. There's never any kind of rivalry - we all motivate each other, and it's more about competing with yourself than with the other runners.'

Personal best aside, Gary has another motivation to get through the finish line quicker - he is jetting off to the Maldives just hours after the race.

'It'll be a rush to get to the airport, but I don't want to miss the race either!'

With a similar buzz of adrenaline pumping through participants across the area, Sunday is certainly looking to be an exciting day for all.