Date added: 14 October 2007
Swindon Half-Marathon 2007
Cheered on by an enthusiastic crowd, over sixteen hundred runners took part in the Swindon half-marathon today.
The main race, taking place over the tough 13.1 mile undulating course in and around Coate Water and Liddington Hill, was won by
Swindon athelete Gary O'Brien in a time of 1hr 17mins 23secs.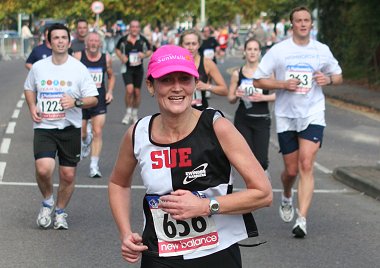 MARATHON MARVELS


Swindon Half-Marathon 2007

Lambourn runner - and former Commonwealth Games competitor - Shona Crombie-Hicks took the tape in the womens' event in 1hr 21mins 29secs.
A 4.3-mile multi-terrain race and a 2-mile fun run was also enjoyed by people of all ages and abilities - some in fancy dress.
Here's our gallery and video.

Half-Marathon 2007 - 14/10/2007
The Big Run-Up
Half-Marathon runners prepare for Sunday...

11 October 2007