Christmas Events 2007
Christmas Lights & Events

This year promises to be more illuminating than ever before.
It's going to be bright lights, plenty of decoration - plus, hopefully, a little bit of the glitz and glamour of celebrity.

As ever, the biggest events will being taking place in the town centre and Old Town - and here's all the details.
Thursday, 15 November 2007
The town centre was transformed into a magical winter wonderland on Thursday 15 November with the annual Christmas lights switch on, this time performed by rugby star Keiran Bracken.
Thursday, 29 November 2007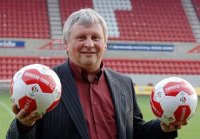 One of the most eagerly awaited nights in the winter calendar takes place this year on the last Thursday of the month.
Last year Swindon boxing star Jamie Cox was the man on the plunger, but this time it's Town manager Paul Sturrock.
Entertainment starts at 6.30pm
Light switch-on at 7.00pm
Wednesday, 14 November 2007
The Outlet Village was alive with Christmas spirit, as members of the community celebrated the switching-on of the Macmillan 'Tree of Thought'.
It was a night of celebration and commemoration, as pupils from Ruskin Junior School joined Swindon's Deputy Mayor, Steve Wakefield, to remember family members who have been lost through cancer, with the symbolic tree at the centre of the occasion.

Story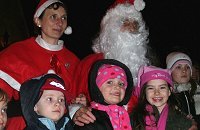 Over a thousand people are expected in Highworth market square to witness the Christmas switch-on.

The mayor will be on the plunger, with Santa doing his usual tour handing out sweets afterwards.

Entertainment starts at 6.30pm
Light switch-on at 7.00pm
A chance to enjoy Wootton Bassett's celebration of the festive season.

A full programme of entertainment along Wootton Bassett high street featuring craft and charity stalls, carol services, Santa's grotto, children's workshop, fire eaters, carousel, stilt walkers, and plenty of shops open too.
Fancy dressing up as Father Christmas and raining money for the Prospect Hospice?
If you do, then a 5K dash around Swindon town centre is right up your street! And if you don't, then why not go along and support those mad enough to take part.

Santa Dash registration
07 December 2007 - 06 January 2008
Christmas in Swindon wouldn't be the same with out the good old Wyvern Panto - even more expected this year, as it was cancelled last year.
Britt Ekland all set to star as Cinderella's Fairy Godmother.

Wyvern Theatre
And for everything else... we've the biggest listings!

What's on over Christmas - full list