Get your skates on!
Swindon town centre will be transformed into a wonderland of Christmas spirit this year, with a bigger budget allocated to Christmas events and lighting.
In a bid to bring an extra sparkle to Swindon's festive shopping experience, the Town Centre's Management team, inSwindon, have quadrupled their budget and have some exciting things planned.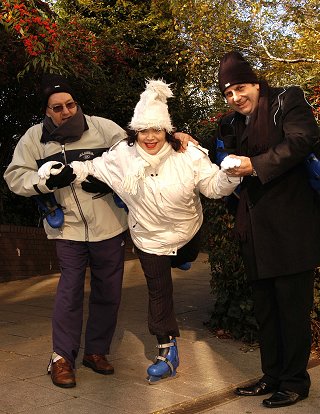 InSwindon's Bernie Maguire, Stephenie Tully
and InSwindon Chief Executive, Mark Ross get
their skates on ready for
the temporary ice rink
opening
on the 23 November
The star of the show will be a temporary ice rink situated at the former Post Office site on Fleming Way, close to the bus station. In place from November 23rd to December 21st, it will be open from 10am to 8pm daily, and is the perfect distraction from the hustle and bustle of the shopping experience.
Whether you're the next Torvill or Dean, or you simply want to get your skates on and have a go, the ice rink is set to be a hit with adults and children across the town.
InSwindon's Chief Executive, Mark Ross, said: "Everyone knows Christmas shopping can sometimes be a bit stressful so we wanted to inject a bit of fun into it.
"The ice rink gives people an opportunity to take a break, slow down, perhaps mingle with the street theatre and really enjoy themselves, before getting back into the thick of shopping again."
With a set cost of £1.60 per session, the ice rink offers a cheap and fun way to burn off a few of those mince pies - and let's be honest, it's the closest thing to a white Christmas we're going to get!
Like many towns across the country, Swindon has had to compete with out of town retail centres, and ice rinks like this have proved very successful in attracting shoppers.
So come all ye faithful, and celebrate the goods on offer in Swindon's town centre this Christmas.
On the Rink
Just what is our Kirsty up to with the Swindon Wildcats?...