Date added: 07 November 2007
Beverley's Knight in Swindon
Beverley Knight rocked the stage at the Oasis last night, with a breathtaking performance.
The ever-confident and ever-sexy singing sensation strode on stage, to the explosive cheer of her dedicated fans.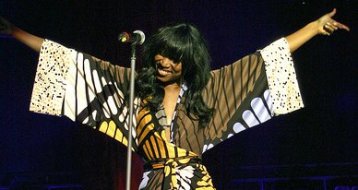 Beverley Knight salutes the crowd at the Oasis


Dressed in a short gold and brown dress, with killer heels, she looked every bit the glamour girl, as every woman and man in the room watched on admirably.

Promising the screaming Swindonians "a bit of old school, a bit of new school, and a little bit of every school", the soul sister delivered with style, as she performed songs from her latest album, 'Music City Soul', with enviable ease.

Also performing Al Green's classic 'After You', and amazing renditions of her own classics, including 'Shoulda Woulda Coulda', it was certainly a night to remember.

Sending shivers down spines, Beverley was beaming throughout the entire performance, and it was crystal clear from the beginning that she appreciated her fans' reactions just as much as they appreciated the unforgettable night she proudly delivered.

After almost two hours of sensational singing, Beverley said her goodbyes and thanked the crowd for the dedication and support. Followed immediately by screams for an encore, the starlet reappeared to sing three more songs, before finally leaving the stage.

But Beverley was not the only star of the show.

Kicking off the concert, the talented group 'Cherry Black Stone' sang a fantastic track of Justin Timberlake's 'Sexyback' mixed with the Eurythmics' 'Sweet Dreams' whilst fans sang along excitedly.

New to the music scene, and next to take the stage, David Jordan looked like he was born to perform. Running on stage wearing tight zebra-print trousers and a cropped black jacket, he had the crowd mesmerized by his raunchy dance moves from the second he started.

There is no denying though, that Ms Beverley Knight is the reason 3,000 fans left the Oasis with smiles stretched across their faces, humming the likes of 'Gold' and 'Greatest Day'.


Beverley Knight in Swindon - 07/11/2007
The Kooks
Brighton boys rock the Oasis - SEE GALLERY & VIDEO!...

Ooh La!
Kooks come to Swindon...

29 January 2008