Date added: 07 November 2007
Swindon College opens its doors
Swindon College opened its doors to students and parents across the town last night, during an open evening for next year's prospective college-goers.
Final-year pupils from secondary schools in Swindon and the surrounding area, were invited to sample a bit of what's on offer at the town-centre college.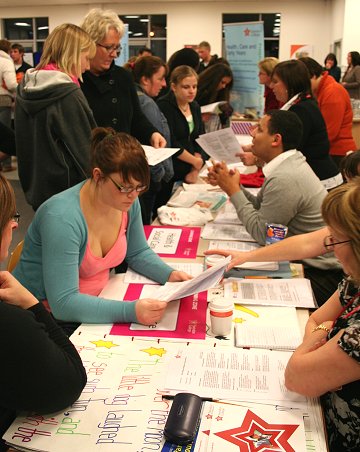 Prospective students sample what's on offer
From Media Make-Up and Music Production, to Sequential Illustration and Interior Design – Swindon College has a wide array of subjects to choose from, and last night they were offering snippets of their exciting vocational courses for prospective students.

Louise Brooke, a Team Leader within the Art and Design department, was on hand to help her fashion students showcase their work.

Having lectured at Swindon College for almost ten years, Louise is keen to see a change in some preconceptions about the college. She told us: "What we have to offer now is brilliant. A lot of our students come to the college and progress through to higher education, working towards National Diplomas and degrees.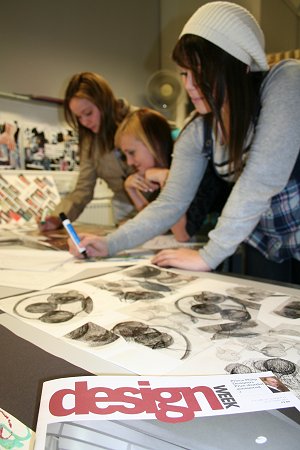 students showcase their work in the
art and design department
"There are so many opportunities for young adults in Swindon, and people don't have to worry about the cost of studying at a university – they can do it right here in Swindon."
Final year Media Make-Up students, Shanti Mabberley and Katie Cavanagh, both from Swindon, are currently applying for university, and hope to work in London one day. 19 year-old Shanti said: "The course is so much fun, and we've learnt so much. I'm hoping to get a place at a London university and hopefully one day I'll be a make-up artist there."
The college has recently announced their participation in a pilot scheme – the first of it's kind in the UK – which involves 14-19 year olds being introduced on to vocational courses, in the hope that they will continue using their skills within a workplace.
Swindon College will be working closely with New College to ensure the pilot scheme offers the town's young men and women the best possible opportunities.

Swindon College Open Evening - 07/11/2007