Date added: 12 November 2007
A day to remember
Services held across the town for Remembrance Sunday
It was a day to remember on Sunday, in services held across the town to commemorate lives lost during the two World Wars.

Two-minutes' silence were shared at 11am, in church services in Swindon and the surrounding area.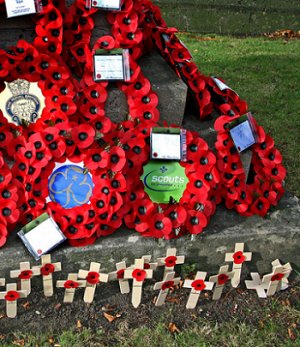 Thousands lay their poppies in
thought
of the thousands who
Events were attended by hundreds, and people have been wearing their poppies with pride in preparation for the annual event, to symbolise their thoughts for the thousands of soldiers who fought for their country.

And with the British Army's involvement in the Middle East in recent times, Sunday also offered an opportunity to remember those who have fought in conflicts since the World Wars, and in particular those who are fighting now.

Take a look at our gallery below, to see just how Swindon remembered...

Rememberance SUnday 2007 - 11/11/2007
The Christmas Truce
You've probably seen the advert - but Captain Mervyn Richardson from Purton was really there...

15 November 2014

Marking The Start Of WW1
100 YEAR ANNIVERSARY: Schoolchildren gather in Wharf Green before 28 June - the day that sparked the Great War...

26 June 2014

Bravery Recognised
Proud evening as Swindon soldiers are awarded Operational Service Medals for Afganistan Tour - WATCH VIDEO

12 March 2014

Field of Remembrance
Lydiard Park hosts the Royal British Legion's tribute to our brave Serviceman & women - 08-17 NOV

Radnor Street Remembrance
Swindon honours its war graves at much-neglected cemetry - GALLERY + PICS FROM OTHER REMEMBRANCE DAY CEREMONIES

11 November 2012

Strictly Poppies
Come Dancing stars perform at the opening of Remembrance Field at Lydiard Park - GALLERY

09 November 2012

Swindon and World War One
Lest We Forget 101 Years On: our 4-part chronicle of the role Swindon people played in the Great War #therebutnotthere