Date added: 16 November 2007
Winter Wonderland
Kyran Bracken adds a twinkle to the town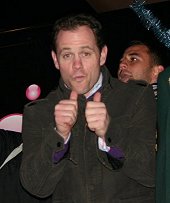 It was sport stars galore last night, as members of the town's ice, rugby and football teams took to the stage at The Parade to celebrate the annual town-centre light switch-on.

With special guest Kyran Bracken MBE making an entrance to the evident pleasure of his adoring fans, Swindon's Winter Wonderland was a hub of excitement.

The ex-England rugby player and winner of Dancing on Ice was down-to-earth and all smiles as he took the time to speak to fans - and players from the Swindon Rugby team were particularly star-struck as they posed for a photo with their idol.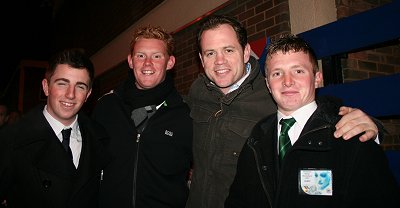 Star-struck:

Swindon Rugby boys with Kyran Bracken

Kyran said: "Turning on the lights in what is a very vibrant town and a great shopping centre is fantastic, and it's great to see everyone getting involved in the celebrations."

Joining Kyran on stage were the boys from the Swindon npower Wildcats and STFC's Hasney Aljofree, whilst the Mayor and Mayoress, Town Crier Fred Ferris, and members of Swindon Borough Council also joined forces to celebrate the traditional event.
All smiles:

Kyran with the Mayor and Mayoress

Swindon Town Captain Hasney Aljofree said: "I haven't really had a Christmas day for the last 10 years, so I'm looking forward to spending time with my family – that's what Christmas should be all about."

With a great sense of community and a fantastic firework display to end the evening on a high, it certainly was a night to make town centre management company, inSwindon, very proud.

But they were celebrating more than Christmas cheer last night, as the town centre setting acted as a great reminder of the incredible changes due to take place as part of a massive regeneration project.

Gavin Jones, Chief Executive of Swindon Borough Council, is particularly pleased that his home town will be undergoing so many changes.

He told us: "I've lived in the Borough all my life, so it's fantastic to see these changes finally being put in to action.

"I'm so privileged to be a part of it, I've got the best job in the world!"

Town Centre Christmas Lights Switch On 2007 - 16/11/2007