Date added: 20 November 2007
Racing stars turn out for Swindon Supermarine
Champions of the turf help raise thousands at charity night
Three of the biggest names in national hunt racing enthralled an audience at the 21st Supermarine FC Sporting Dinner last night.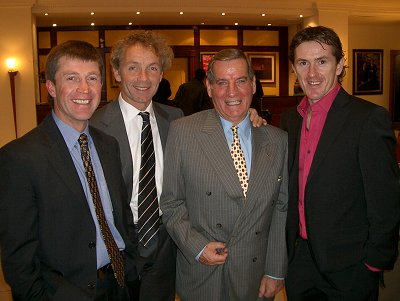 (l to r) Carl Llewellyn, John Francome and AP McCoy
(far right) with Supermarine chairman Cliff Puffett
Swindon-born former-champion jockey John Francome taking the stage alongside current champion Tony McCoy and double Grand national winner Carl Llewellyn as part of a fundraising event attended by over 200 guests.
They listened intently as Francome and his racing pals recounted humourous stories of life in the saddle in a question and answer session compered by BBC Radio Swindon's Sean Hodgetts.
The evening, which was held at the Marriott Hotel, concluded with a four-race 'card' where groups of tables were encouraged to bid for horses in an auction. In total over £4,000 was raised for the Supermarine club, who are planning to re-develop their Hunts Copse ground at South Marston.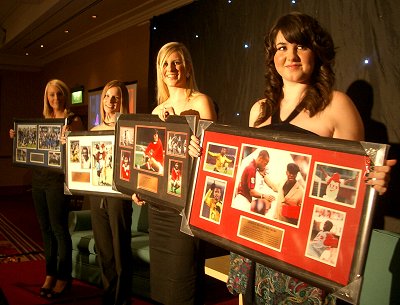 a memorabilia auction raised over £1,000
"It's been another fabulous night for the football club," said Supermarine chairman Cliff Puffett, who organised the dinner.
"I can't thank John, Carl and AP enough for giving up their time. And everyone who has paid to hear these legends share their experiences."
Big Game Build-Up
Collier pleased with preparations as Supermarine players are told: 'Enjoy it!' - WATCH SWTV INTERVIEWS...

John Francome
Swindon gee-gee genius and seven-times champion jockey...