Date added: 09 December 2007
Making a dash for it
Dozens of Santas take to the town
There's only one man we're expecting to drop down our chimneys on Christmas Eve, but if you were in the town centre on Saturday, you'd be forgiven for thinking otherwise...

In fact, the only thing missing was Santa's sack, as dozens of look-a-likes took to the town in aid of the Prospect Hospice.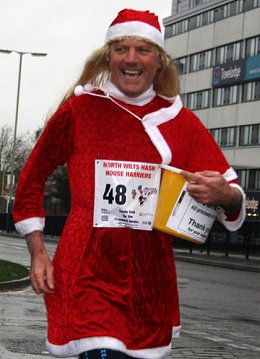 North-Wilts Hash Harriers rasing
money for The Prospect Hospice

Organised by the North Wilts Hash Harriers running club, the 5k 'Santa Dash' began at the Wyvern Theatre and circled the town centre.



And although they weren't dropping goodies down any chimneys, the organisers are confident they have raised enough money to give the Prospect Hospice a very merry Christmas.