Date added: 08 December 2007
Hard-Fi 'love Swindon'!
Indie band rocks the Oasis


Chart-topping indie rockers Hard-Fi were living for the weekend in Swindon on Saturday night, in a sell-out show to 3,000 screaming fans.
From 'Hard to Beat' to 'Stars of CCTV', the Surrey band performed the best of their hits, with the gusto and energy that has made them a hot topic for 2007.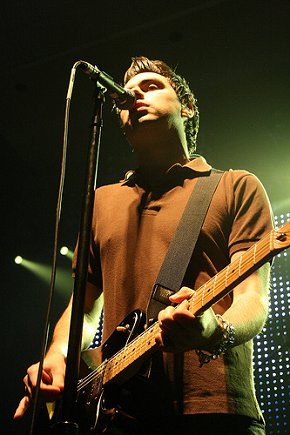 Singer Richard Archer gives a impressive
performance at their Swindon gig

And the boys certainly left their mark on Swindon, with an impressive backdrop of lights spelling out their love for the town.

Support band, 'The Rumble Strips' certainly got the crowd going, leaving everyone with expectations of what they'll become in the
future.
Hard-Fi fans look on adoringly to the band

22 year-old Rebecca Matthews, from Longcot, said: "I've been looking forward to this for months, and I was definitely not disappointed!"

The biggest scream of all came from the the SwindonWeb girls, who were checking out more than their vocal talent as they rocked the Oasis.

But hey, that's the perks of the job!

The Kooks
Brighton boys rock the Oasis - SEE GALLERY & VIDEO!...

Ooh La!
Kooks come to Swindon...

29 January 2008

The Zutons
Gig review from Zutons live at the Oasis...

19 November 2006