Date added: 17 December 2007
Swindon's got the Xmas-Factor!
Greenbridge holds Christmas competition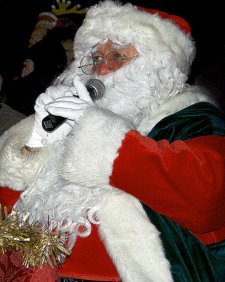 Early appearance:
Santa pays Swindon an early visit
to
judge school choir competition
School choirs across the town took part in an 'Xmas Factor' competition on Thursday night, held at the Greenbridge Retail Park.

The competition was held to find the school choir with the most Christmas spirit, and included performances from Colebrook Junior, Shaw Ridge and Westlea Primaries.

All three schools were offered the chance to impress the judges with two songs, and Colebrook Junior School did just that, singing their way to success with renditions of Frosty the Snowman and Rudolph the Red Nose Reindeer, to be crowned Xmas-Factor Champion 2007.

The decision was made by the three judges, Swindon Mayor Cllr. Michael Barnes, GWR's Simon Green, and special guest, Father Christmas, who were more than happy to take the place of Simon, Louis and Sharon.

Local brass band, Pegasus, took to the stage to perform whilst the judges made their final decision.

Caroline Voaden, music coordinator at Colebrook, said: "We're absolutely delighted to have won. Our choir has been practising so hard for weeks now so it's a really great achievement for all of us."

Xmas-Factor 2007 - 17/12/2007