Date added: 17 December 2007
A Christmas Carol
Festive singing with the Mayor
The Mayor of Swindon joined members of the public on Thursday night to celebrate the Christmas period with an evening of Christmas Carols, held at St Augustine's Church in Rodbourne.

Cllr. Michael Barnes was joined by pupils from Even Swindon Primary School, who sang carols and festive lullabies for Council representatives and people from across the town.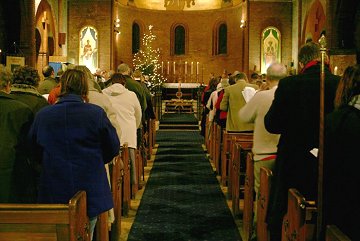 Traditional Christmas:


People from Swindon filled St. Augustine's
Church
to sing carols with the Mayor

The Civic service, which was led by the Mayor's Chaplain Canon Alastair Stevenson, also included readings from Council members including Chief Executive Gavin Jones.

To commemorate the festive period, mince pies and hot drinks were on offer after the service, giving people the chance to meet and greet the Mayor and members of Swindon Borough Council.

Aside from festivities, the evening also helped raise money for the Mayor's charities – TWIGS (Therapeutic Work in Gardening in Swindon) and Swindon Cares.

Cllr. Barnes said: "This important occasion was all about celebrating the festive season. We are grateful to those who kindly took part in the service, and I hope everyone had an enjoyable time."