Date added: 24 November 2005
Old Town Christmas Lights 2005
Jon Lewis performs the big switch-on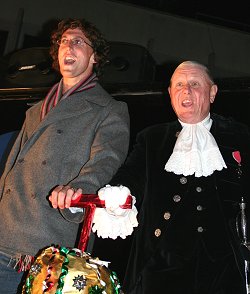 Howzatt!:


England cricketer Jon Lewis and the
High Sheriff of Wiltshire,
David Margesson, light up Old Town
He may have narrowly missed out on the Ashes this summer, but Swindon cricket star Jon Lewis set Swindon alight last night at Old Town's Big Switch On.

The England star and Aussie basher in the Ashes build-up put his bowling arm to good use to push the plunger and ignite the Old Town Christmas Lights, which included brand new illuminations in the Godwin Court area.

It was a bitterly cold night as usual but spirits were high as hundreds showed up for the annual celebration on Wood Street, where Lewis was accompanied by the High Sheriff of Wiltshire, David Margesson, in his full regalia.

For many the highlight of the night was Lewis dancing to the Amarillo with the High Sheriff and his wife!

Speaking to SwindonWeb straight afterwards, local hero Lewis confessed it wasn't the first time he'd 'done the Amarillo'.
"I'm very much an Amarillo fan! Peter Kay is a legend," says Lewis. "The High Sheriff and his wife seemed to be getting into it too!"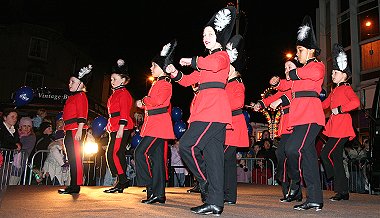 the Tanwood School Dancers entertain the crowd

Dancing the Amarillo was clearly a proud moment for the thirty year-old seam bowler and one he'd rank alongside this summer's 20/20 thrashing of the Aussies, in which he took four wickets and helped boost the England team's confidence going into what would be an unforgettable Ashes series.

"The 20/20 against Australia was a great day that I will always be very proud of," says Jon. "The atmosphere was fantastic. I was actually a bit shocked myself that I did so well and knew I stood a chance of making the Ashes."

Jon narrowly missed out on the sporting highlight of the summer, but after a great season at international and county level, he insists that with two or three international seasons left, he's still in with a strong chance of making the test squad.

"I just need to progress further and keep pushing, pushing, pushing until I make it into the team. I believe I can do a job for England at that level and hopefully I'll get my chance again in the future. England has a very settled team of strong bowlers so to break into that is very tough but I'm still striving to do that."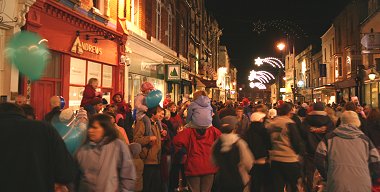 The former Churchfield's and New College student says he has very fond memories of the Swindon Cricket Club.
"I started going when I was seven years old. I progressed through the junior teams and by the time I was eleven I was playing in the men's senior fourth team. It was a great experience and it really helped me develop into the cricketer I am today. As often as I can I still try and get back there and do a few things for them."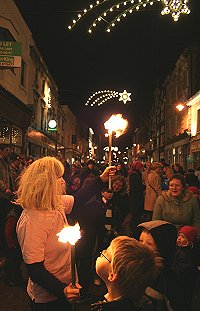 Firing up Old Town:


a street entertainer thrills the
Jon was delighted to be asked to switch the lights on and admits last night was his first 'celebrity appearance' of this kind.

"I've lost my virginity!" he confesses. "I've not been to this sort of thing before but I enjoyed it. I couldn't actually see the lights switch on from the stage which was a bit of a downer, but I'm sure they came on!"

"I used to live just down the road so I remember coming up to see the lights a couple of times," he adds. "It's very fun for the kids to be up here to watch these sorts of things. They've got a really good show going on here now so that's great."
Before the illumination, the crowds enjoyed entertainment on Wood Street from Robbo the Clown's juggling players, the Wyvern's Peter Pan panto heroes, the Tanwood Dancers and youngsters from Old Town's Success Martial Arts.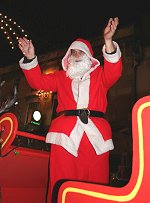 Ho Ho Ho-ld Town:


the Highworth &
The evening was compered by GWR's Howard Taylor and concluded in traditional style with a procession by Father Christmas, handing out sweets and spreading joy along Wood Street.

Harry Bromley, now in his seventh year as organiser, says, "Old Town is fortuniate to have its Victorian/Edwardian streets from which the period Christmas atmosphere is created. Developed over the years, it exemplifies what can be achieved at Christmas and so much enjoyed by the community."

The festive countdown begins here!