Date added: 25 November 2004
Old Town Christmas Lights 2004
David Howell performs the big switch-on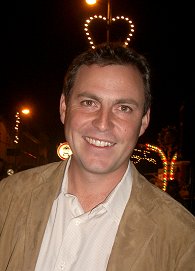 In the swing of festivities:


Swindon's golfing hero,
It's been a busy week in Swindon for Christmas Light ceremonies.

On Thursday evening [25 November], Swindon sporting star David Howell took a break from his hectic golfing itinerary to swing Old Town fully into the festive season by performing the honours in front of nearly two thousand people.

They had turned out on a chilly night to cheer on the Ryder Cup player and Broome Manor member as he flicked the switch alongside Mayor David Stoddart and Swindon town cryer, Fred Ferris.

The eager crowd were also treated to musical entertainment from local mod band Roundabout and charol singing from the Swindon male voice choir, accompanied by the Wroughton Silver Band.

Dame Trott and Daisy the Cow from the Wyvern panto, Jack and the Beanstalk, together with Tanwood Dancers were also on hand to add to the jovial atmosphere.