Date added: 04 September 2004
Formula One stars right on the Button in Swindon
Jenson and Takumo thrill crowds on Honda family fun day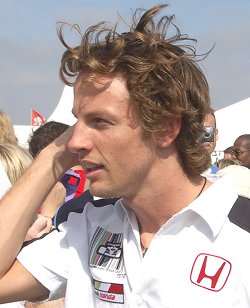 Formula One star:

Jenson Button
Two of Formula One's hottest young talents gave a demonstration of their exceptional driving skills in Swindon this weekend.

As part of family fun day organised by local car giant Honda, thousands of employees were invited to meet BAR Honda stars Jenson Button and Takuma Sato - before being treated to a spectacular, tyre-screeching display of car driving from the two grand prix teammates in a Honda Civic Type R and an S2000.

Taking place on the old airfield at the Science Museum in Wroughton, Jenson, in particular, produced a rubber-burning performance and series of stunts that had his enthralled audience of men, women and children cheering his name and shouting for more.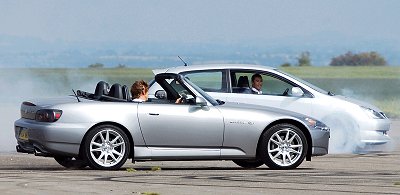 Button and Sato show off their skills in the
Honda Type R and S2000
calyx multimedia

Not to be outclassed, fellow F1 protegé Sato also gave the four thousand strong crowd a glimpse of his breath-taking driving skills by manouvering his Honda Civic into a series of high-speed skids and turns that raised gasps of amazement.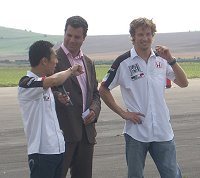 Takumo Sato
describes how
he got the
most out of the
Honda
Type R while Button
"I never realised the cars we produce could do such things!" said one Honda worker, who had attended with his wife and two young children.

"When you see them [Button and Sato] on the TV you don't realise the skill that goes into driving a car at such speeds. What they showed us out there was how good they are at controlling a car - it was fantastic to watch," he added.

After the event, both drivers then stayed for over two hours to meet, chat and sign autographs for those who had witnessed their awe-inspiring display.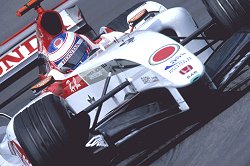 The day job:

Jenson Button in his
BAR F1 car, powered by Honda
That included a moment when SwindonWeb caught up with both drivers and asked how much they had enjoyed their brief, but exciting, trip to Swindon.

"I really enjoy days like this," Button said.

"It's great to get out here and join in the fun, because with our busy schedule it's difficult to find the time to relax and unwind. Taking the cars to their maximum its hugely satisfying and myself and Takuma [Sato] really enjoyed the handling of the two Hondas - they are seriously great cars to drive," the Englishman commented.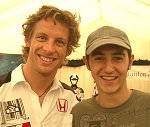 Sato was equally pleased to have squeezed in the day, just before an important Grand prix.

"It's nice to meet so many people who support us," the Japanese ace said. "The Honda engine that powers our Formula One cars has been a crucial factor in our so far successful season, so it means a lot to be here.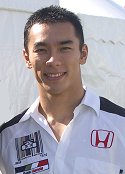 "I hope the race next week at Monza is as exciting because I'm really looking forward to it. We tested there recently and I think the circuit will suit our car and engine package, so a top three place or a win is what we're aiming for," Sato told us

At approximately 3pm, Button and Sato were swiftly whisked away to catch a private plane to Monza in Italy, where they will be taking part in the Italian Grand Prix on Sunday.

In a day entitled 'Medieval versus Modern', other entertainment on offer to Honda employees and their families included jousting displays, archery and even chariot racing.

BAR Honda
- official site

Honda in Swindon
- more information

Jenson Button in Swindon - 04/09/2004
It's The Eboladome!
And it's in Swindon! New Grand Tour test track gets the Clarkson treatment...

21 November 2016

Hello Jenson?
Is the F1 champ heading for Swindon? (well, there's no speed cameras) ...

21 November 2009

Bye bye Button
No more F1 thrills and spills in Swindon, then eh?...

05 December 2008