Date added: 28 August 2004
Forest Festival 2004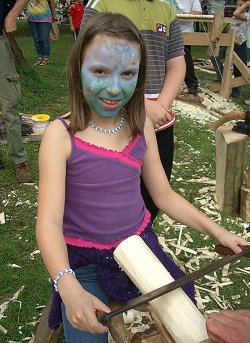 Enjoyng the wonder of wood:

the
Picture gallery from Lawn Woods
Over five thousand people descended on the Lawn in Old Town on 28 August 2004 to celebrate the sixth Swindon Forest Festival.
Sponsored by Nationwide Building Society, and organised by the Great Western Community Forest team, the free event featured a whole range of eco-friendly activities, stalls and entertainment with the theme of 'World Wide Woods'.
Aside from jugglers, dancers and interactive theatre, especially popular were the workshops and displays that featured traditional and contemporary woodland skills, where children were encouraged to join in.

Musical entertainment was provided by African, Asian and Latin American drumming groups, together with series of local bands, who all played a folky mix of upbeat tunes throughout the day.

Forest Festival 2004 - 28/08/2004