Date added: 27 September 2003
Pete Waterman swaps Pop Idol for Swindon
Record producer opens first STEAM Railway Festival

Music impresario, Pete Waterman, took a break from being a judge on ITV's 'Pop Idol' to open the first Great Western Steam Convention at Swindon's STEAM museum on 27 September 2003.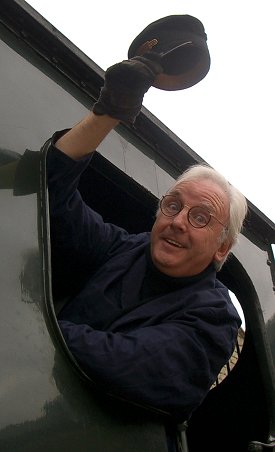 Pete Waterman
(he even
brought his
own train driver's cap for the occasion!)
As a keen enthusiast of the railways and the owner of fifteen locomotives from the golden age of train travel himself, the record producer spoke passionately about his love for steam engines, the GWR and the Swindon Works.

"What was achieved here in Swindon over 150 years is absolutely amazing," he told SwindonWeb.

"It was an incredible engineering feat that will probably never be repeated again. This museum tells the story of an age that must be remembered and conventions like these are fantastic for reminding people, especially the kids, what made Britain great."

"The railways have always been in my blood right from when I was a young boy, through to my first day as a locomotive boiler man in 1961 and then as a member of the British Rail board in 1996.
"I love everything about it and believe that the train is the most fantastic form of travel we have in this country. I'll be here in Swindon all weekend talking to other enthusiasts as a real entusiast myself," he added.
Best known as the music mogul who first shot to fame as one-third of the record producing partnership, Stock, Aitken and Waterman that masterminded the likes of Kylie Minogue, Jason Donovan and Rick Astley to pop stardom in the 1980s, Waterman has amassed a fortune estimated to be £60 million and is also the owner of the London and North Western Railway, the biggest privately owned provider of rail maintenance services.
He travels every week on the train from his home in Manchester to his record company headquarters in London, and, by his own admission, hates the idea of spending time in a car.

"I'd rather listen to the worst acts on Pop Idol all day than sit in a traffic jam!" he proclaimed.

On display:the convention includes a series of model layouts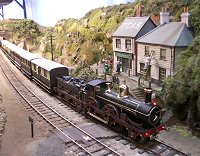 a series of model layouts
Waterman also took the opportunity while at the Steam Museum to tell SwindonWeb that he had just finished filming a series of programmes for Channel 4 called aptly 'Pete Waterman's Trains' that is a celebration of the British Railway, from its birth to the ups and downs of nationalisation, privatisation and change.
The first programme is expected to be screened in October.

More information about the Steam Convention this weekend including details on the award-winning museum itself, the guided walks, exhibitions, model railway layouts and expert talks and lectures on offer for all the family are available on the STEAM website (see link below).

Swindon Railway Festival 2012
Join Pete Waterman and show sponsors Hornby Magazine for the ultimate display of GWR railway layouts - 14 & 15 SEPT

15 September 2012

The Railway Works
Celebrating Swindon175. A short introduction to the world's finest railway works. Founded this week in 1841....