Date added: 11 December 2008
Aladdin at the Wyvern Theatre
Pantomime gets everyone into the Christmas spirit
The festive season in Swindon wouldn't quite be the same without the good old Wyvern Panto!
And this year it seems they have produced a right Christmas cracker.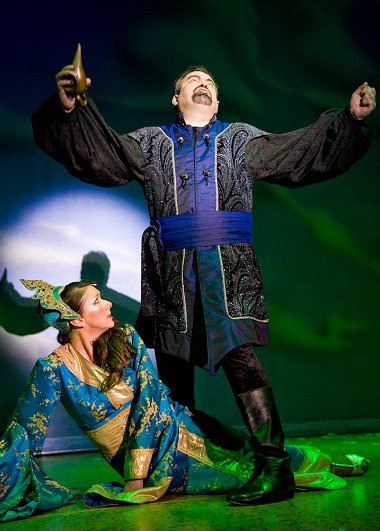 Shaun Williamson as Abanazar and
Rachel Matthews as the Princess
Star of the show Shaun Willliamson - or Barry as he was referred to throughout the night - took to the stage for the first time last night to play Abanazar in front of what the Wyvern hope will be the first of many full houses.
"Shaun's great, the singers and the whole cast are brilliant and we're so pleased to be running the show," commented Andrew Hill, theatre director.
"There has been some great feedback from the audience and everyone seems to have loved it."

Performances run twice daily over the Christmas period from Friday 05 December to Sunday 04 January, with tickets available via the Wyvern website or ticket office on 01793 524481.
Aladdin at the Wyvern Theatre
photos by Kris Talikowski

Aladdin at the Wyvern Theatre - 11/12/2008