Date added: 15 December 2008
Holmes Music Christmas Charity Show
Event raises over £5,000 for Goldenhar charity
A Christmas music show, now in its 26th year, has made a 'massive difference' to a charity helping families affected by a very rare condition.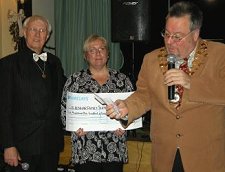 Swindon mayor Steve Wakefield,
longside John Holmes (l), and
Christine Anderson
at the

presentation of the cheque to
The
Goldenhar Family Support Group
Alan Holmes of Holmes Music in Faringdon Road, whose grandson Morgan suffers from Goldenhar Syndrome, donated all the proceeds from their annual event to The Goldenhar Family Support Group - in total £5,220.
A 2009 calendar produced by Darren and Lisa Coleman of Puttyfoot photography, Billly Beaumont of Billy Blagstar Productions and printed by ESP Colour, is also helping to raise money for the cause that has supported Alan and his family in recent years.
"Everyone has been enormously generous," Alan said, "and this money really will make a massive difference to a charity that is doing some fantastic work.
"It's our way of saying thank you."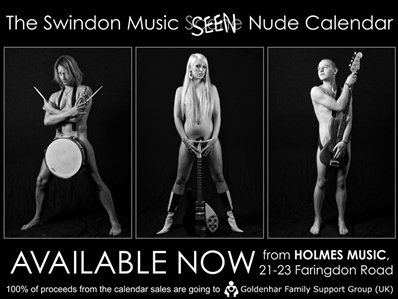 at Holmes Music, Riffs Bar, 12 Bar and The Vic
The Swindon Music 'Seen' calendar is currently on sale at Holmes Music, Riffs Bar, 12 Bar and The Vic priced £5.

Holmes Music 26th Annual Christmas Charity Show - 15/12/2008
Goldenhar Family Day 2010
A weekend of fun raised money and gave awareness for the Goldenhar Family Support Group...

15 June 2010

Nicholas McCarthy in Swindon
Acclaimed concert pianist born with only his left hand plays in aid of the Goldenhar Support Group...

10 June 2010

Nicholas McCarthy
Acclaimed concert pianist born with only his left hand plays in aid of the Goldenhar Support Group - THIS SATURDAY...

Bands and burlesque
An evening of live music, entertainment and lots, lots more...

23 March 2009

A quest for charity
Holmes Music organises charity night for Goldenhar Family Support Group...

11 March 2009

Happy nude year
Swindon band get their ROX off for charity...

11 December 2008