Date added: 04 November 2008
All Ffor-de the New Central Library
Swindon's famous author is back in town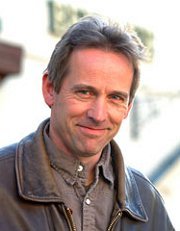 Jasper Fforde who is known for putting Swindon on the literary map will be in town this Thursday.
Famous for his series of Thursday Next novels which compares the town as a parallel universe will be at the new central library at 7.30pm tol talk about his books and their alternative Swindon setting.

This event is free – but tickets are limited and are now available on a first come, first served basis at the Help Point on the second floor of the library building.

"It is fantastic that Jasper Fforde is visiting the New Central Library," commented Councillor Justin Tomlinson, Swindon Borough Council Cabinet Member for Leisure, Culture and Recreation.
"I'm sure he will be the first of many authors to enjoy the impressive surroundings, which are creating a real buzz about town."
Jasper Fforde
Jasper Fforde - Creator of Literary Detective, Thursday Next...