Date added: 31 October 2008
Quantum of Solace Preview
Swindon Bond fans get a chance to see new 007 film before anyone else
It was 00-Heaven for Bond fans in Swindon last night - with a special preview of Quantum of Solace at the Empire in Greenbridge.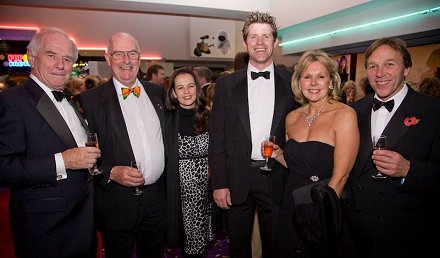 NSPCC special guest Johnny Ball (l) enjoys a pre-film drink with guests before the screening of Quantum of Solace
Swindon Town footballers Blair Sturrock, Michael Pook, Michael Timlin and Billy Paynter, who also attended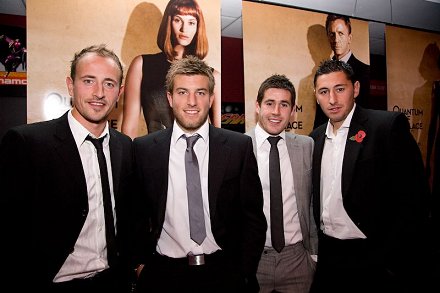 The Swindon cinema was chosen as one of two venues in the country allowed to show the new 007 movie - a day before anyone else.
The special screening was made into a charity event in aid of the NSPCC in Swindon, with tickets costing £17.50.
The cinema had a Bond theme throughout the evening with the lucky few enjoying the red carpet treatment and a cocktail bar.
Quantum of Solace:
the Swindon Connection
The lastest Bond blockbuster takes its title from a short-story written by former Swindon resident Ian Fleming in 1962, while he was living at nearby Warneford Place in Sevenhampton.
One of the last 007 adventures he penned, Fleming was buried at St James's church there after he died in 1964.
Read the full story of Swindon's unlikely connection to 007 via the links below.

Quantum of Solace film premier - 30/10/2008
New NSPCC Service Centre Opens
Mark Cooper among the guests at Old Town launch 21 years after HRH Princess Margaret opened original Swindon office...

17 September 2014

Farewell to Jaws
ARCHIVE: Pictures from Bond star Richard Kiel's visits to Swindon - GALLERY

11 September 2014