Date added: 06 September 2008
Heritage Open Day: Swindon
The chance to take a look inside two of Swindon's most interesting buildings
SATURDAY 06 SEPTEMBER 2008 ONLY
This year for the first time, the National Trust at Heelis will be working with staff at STEAM: the Museum of the Great Western Railway, to offer FREE guided tours of two highly different buildings.
The office spaces of Heelis, the National Trustís award winning Central Office in Swindon, are not usually open for tours of the building on Saturdays, and the Railway Cottage is being opened by staff at STEAM especially for Heritage Open Days.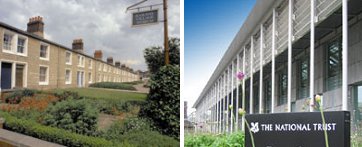 the GWR Railway Cottage Museum (l) and the
National Trust Heelis Building are opening their doors
Tours of Heelis will be offered at 11am, 12 noon, 2pm and 3pm, while walking tours from Heelis to the Railway Cottage will take place at 10.45 am, 11.45 am, 12.45 am and 1.45 pm.
Full details via the Heritage Open Day link below.
Life in a Railway Village
We explore what life is like living in the Swindon Railway Village 160 years after it was first built by the GWR....