Date added: 15 September 2008
Spoony in Swindon!
Radio 1 DJ launches Lawn netball club's raunchy calendar
Radio 1's DJ Spoony was in Swindon on Friday night, to show his support for Lawn netball club.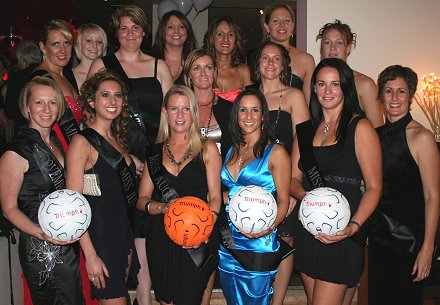 Lawn netball club celebrate their sassy calendar
The team unveiled their 2009 calendar at a party held at The Apartment - where raunchy shots of the girls in underwear from sponsors Triumph, were revealed and auctioned off.
And DJ Spoony did his bit for the girls too - leading the auction, and selling a round of golf to be played with him at Stoke Park for an impressive £900.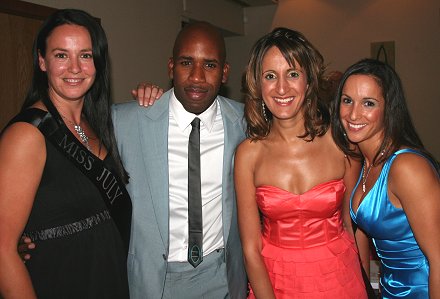 Doing their bit for charity:
(l-r): Lawn netball team captain Alex Leonard, DJ Spoony, Triumph's Mindy Mondair, Lawn netball's Nikki Carvey
The calendar was shot by Shrivenham photographer Timmy Woo, with proceeds going to The Prospect Hospice, Breast Cancer Care, and club funds.
There are 3,000 calendars up for grabs - and at £10 each, the girls are hoping to make a whopping £30,000!

Lawn Netball Club Calendar Launch - 15/09/2008