Date added: 26 September 2008
World's Biggest Coffee Morning 2008
Swindon causes a stir for Macmillan charity event
Shoppers across Swindon raised money for Macmillan Cancer Support this morning, at the 2008 World's Biggest Coffee Morning.
£1 of every coffee bought in one of the Brunel Centre's cafés before 12pm today was donated to the cancer charity.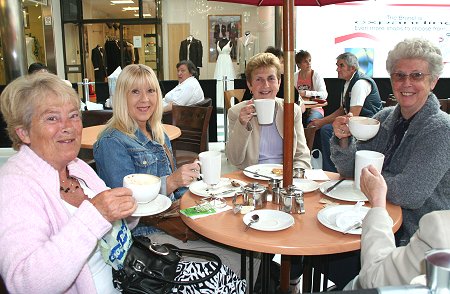 Ladies enjoying a coffee in aid of
Macmillan Cancer Support this morning
Mayor Steve Wakefield was drinking his third coffee of the morning when we caught up with him in Boswell's.
"I'm all coffee'ed out, but it's all in a good cause!
"Whether people raise £2, £20 or £200, it doesn't matter - every pound counts to the Macmillan nurses, so I hope everyone does give something to Macmillan today."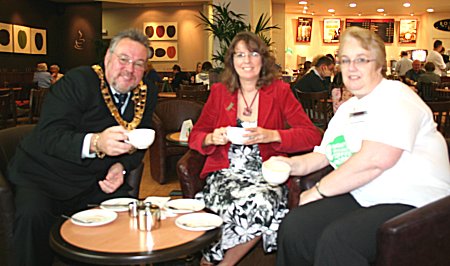 Sipping to success:


(l-r): Mayor Steve Wakefield, Julie Margerum of Vox PR,
and Boswell manager Maggie Sherman
And one customer in particular knows exactly what the money can mean to people suffering from cancer.
Joan Pewsey, from Swindon, had a Macmillan nurse last year.
"Last June I was diagnosed with bowel cancer, and I had a Macmillan nurse who was very good.
"I had an operation in September, but in August my son was in Australia - my nurse used to email him to tell him how I was, which I thought was wonderful.
"I think if you've got cancer, it's a great comfort to have someone like that. They do look after you extremely well."
Maggie Sherman, manager of Boswell's, said: "We've put all our Macmillan collection boxes out, and £1 from every coffee will go to the charity as well as all our tip money from today, so we're hoping to raise £100 or more."
Jingle Belles!
Swindon's hottest collaborate for Macmillan Cancer Care - BUY HERE BOYS!...

22 December 2010

In the Pink
Highworth high street traders raise even more money for charity...

11 October 2009

One lump, or two?
Swindon coffee mornings raise money for cancer charity...

26 September 2009