Date added: 13 August 2008
Take a trip down memory lane
It's exhibition time in Swindon this summer!
We all know how difficult it can be to keep the kids entertained, but with exhibitions going on across Swindon there's no excuse to take a family trip out.
You never know what you'll discover!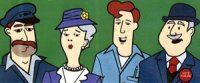 The "Changing Trains: The Journey from Steam to Diesel" exhibition at
Steam museum takes you on a journey back in time.

A fascinating new collection of art and artefacts which explores the changing face of Britainís railways as steam locomotives were replaced by diesel motive power.
This exhibition culminates in the arrival of Evening Star (the last steam locomotive to be made in Swindon) this month, and is expected to go on until the end of the year.
Forget Harry Potter - we're more interested in Beatrix Potter this year.
Taking place until 7 September, the National Trust Headquarters in Swindon are hosting an unmissable exhibition of items which tell the story of one of England's greatest ever children's story writers.
Coincidentally (or not), the exhibition is being held at the National Trust's Swindon headquarters, Heelis - which was Beatrix Potter's married name.