Date added: 03 June 2008
Air Tattoo launch
RAF's finest fly in to launch the world's biggest airshow 2008
Three of the RAF's most courageous pilots braved the rain today to celebrate the media launch of the Air Tattoo 2008 at RAF Fairford.
War hero 90-year-old Sqn Ldr Ian Blair DFM flanked by Flt Lt Tony Parkinson and Sqn Ldr Jason Sutton OBE, the honoured guests of the air show organisors, who promised another 'breathtaking programme' of aerial displays and entertainment in six weeks time.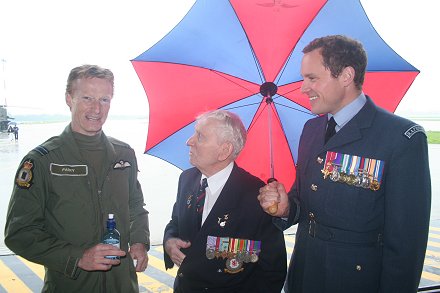 the RAFs Sqn Ldr Ian Blair DFM (center) with
Flt Lt Tony Parkinson (l) and Sqn Ldr Jason Sutton OBE
TV and radio personality Chris Evans had also been due to fly in to help promote the launch, but cancelled at the last minute due to an unforseen problem.
Taking place over the weekend 12-13 July, RIAT (The International Air Tattoo) this year celebrates the 90th Anniversary of the Royal Air Force and will be officially opened by the Queen herself on 11 July.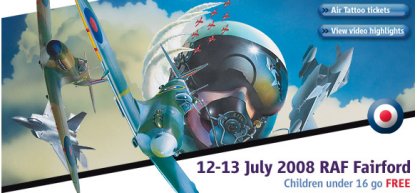 the Royal International Air Tattoo 2008
Over 350 aircraft from around the world will be taking part including the debut of the USAF F-22A Raptor fighter and 10 aerobatic display teams.
Full details and ticket details are available via the website link below.
RIAT 2011
Barrel roles, pyrotechnic explosions and of course, the Red Arrows - SEE OUR GALLERY...

17 July 2011

Lovely Jubbly!!
David Jason AKA Del Boy returns to officially open the 2011 Fairford Air Tattoo...

08 June 2011

Fairford Airshow 2010
Battle of Britain commemorated as Air Tattoo pulls out all the stops - SEE GALLERY...

18 July 2010

Air Tattoo 2007
Gallery and SwindonWebTV of this year's flying spectacular...

David Jason
David Jason AKA 'Del Boy' opens the 2007 Air Tattoo...