Date added: 09 June 2008
Frequently inSwindon
We broadcast music gig live on the BBC Big Screen!
This month's Frequently inSwindon gig was a blazing success on Saturday.
Wharf Green was filled with passers-by who were entertained by everything from electro to rock, and it was easy to see why Swindon's music scene is really making a name for itself.
And for the first time ever, the whole event was broadcast live on the BBC Big Screen.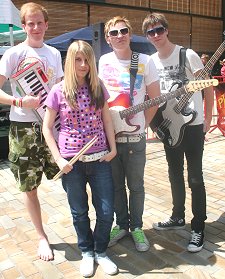 This electro/indie/nu-rave band are a little bit of everything - and they certainly sparked a riot in the town centre, with their funky sound and quirky attire.
They've featured on Steve Lamacq's Radio One show and BBC Wiltshire's 'Underground' show, whilst gigging all across the country.

And it's their intriguing sound which has undoubtedly got them a real name in Swindon's underground scene.
The foursome modestly describe their sound as "elements of the past and the future, combining to make something not quite as good as either."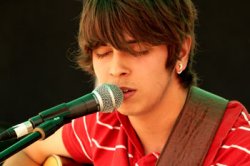 Josh has an incredibly mature and powerful voice - and at just 17, he looks set for a strong future in music.
His acoustic and blues influences come together to create mellow songs that really get your spine tingling.
And his voice could well
be described as a young
David Gray or Ray LaMontagne.

Josh Kumra - myspace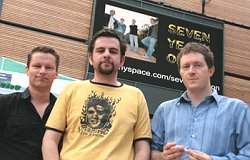 It seems the Radio 1 music connection in Swindon is bigger than we thought - with Seven Years On also claiming airplay on Steve Lamacq's radio show.
They describe their music as "noisy pop songs infused with a wonderous sense of adventure."


Seven Years On - myspace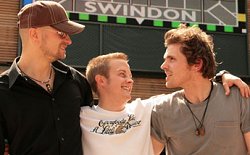 They've supported the likes of Newton Faulkner, The Hoosiers and many more - and with their impressive
acoustic/roots sound, it's not hard to see why.
Their passionate, catchy vocals and great acoustics rounded up a
fantastic day of music.

Hip Route - myspace

Frequently inSwindon gig - 07/06/08 - 09/06/2008
Big Arts Day 2012
And what a great day it was! Here's our gallery from Swindon's big summer gig...

15 July 2012

Frequently inSwindon
Live music on stage in the town centre and on the big screen - SATURDAY 03 SEPTEMBER...

Frequently inSwindon
A 'teen special' music gig featuring Ella's Unable, Dominic French, What is Echo and Theo Altieri - watch videos...